United teamwork Boston Barrier
What a 'United Teamwork'! The brand new segment doors of the Boston Barrier storm surge barrier have arrived in Lincolnshire in the UK. The doors are symbolically wrapped in the national flag colors of the Netherlands and the UK to express our successful British-Dutch collaboration. With the huge civil work in the UK and the doors from Holland, flooding will soon be a thing of the past. We are happy that we can contribute to the protection of the beautiful hinterland. United Teamwork with: Environment Agency, BAM Nuttall Ltd, Mott MacDonald, KGAL Consulting Engineers Ltd, Sarens we work together to realize the Boston Barrier.
Social function
During the transport they passed their huge brothers from the Maeslantkering along the way. Despite the difference in size (10 meters vs 210 meters(!) per door), both have a major social function. In the same way they will protect a large area against severe flooding from the North Sea.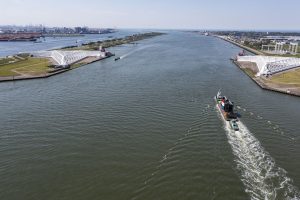 Photo: Boston Barrier passes Maeslantkering, photos Roderik van Nispen.
Read more at: Vertical Segment Gates for Boston Barrier – Hollandia